What
are you 
Offering
the 
World ?
What 
are you
Offering
the World ?
My Astrology research has always focused on career as life-purpose.
It seems to me that if people can find their unique Usefulness,
their personal Gift to the world, they will find fulfilment,
both personally and spiritually.
This is what brings
durable

happiness
However, in the early days of my work, I began to research a little known astrological object (or point of energy—it hasn't yet been categorised or even acknowledged astronomically) that had led me to discover a source of subtle self-sabotage that was hindering my clients & students from their deeper levels of mind, masked as 'unconscious anxiety'—this is not uncommon!
Being a problem-solver by nature, I set about finding reasons and solutions for this issue. 
It became obvious to me that there is a correlation between how great your potentials and aspirations are for your work in the outer world, and how great the anxiety may be that you feel on the inside.
So, in a way, the anxiety is initially a good signpost!
But of course, we need to restore your inner peace. 
As with all truly effective systems, I found that it's through the combining of several tools that your goals can be supported and fulfilled. But this must begin with awareness.
Yogacara Astrology (pron. 'yawga-'chāra — you can slightly roll the "r", if you like) is derived from its integration with the treasure of Buddhist psycho-philosophy & ethics, bringing a positive sanity to what is found in your birth-chart;
Some Taoist considerations for bringing wholeness through your inner life and outer environment; acknowledging the polarity influences and the fluctuating tides in your life;
Thousands of asteroids now provide the body-text of your birth-chart, with the planets (in my view) now relegated to being 'chapter headings';
Deeper spiritual evaluations through my independent research of the 8 Transneptunian Points (only discovered in the 1920s).
Plus my own life-experience spanning six decades, along with my varied independent studies and research.
The Central Tool • Yogacara Astrology
What I had begun in 1986 evolved into an advanced system of astrological interpretation, which I have developed further for the 21st century, and presently for our current astrological paradigm. I've labelled this Yogacara Astrology (explained below).
As a system based on vibrational frequencies, Yogacara Astrology details the various types of consciousness you operate within during various moments of your day.
I've developed this astonishing tool organically, through working extensively, one-to-one, with live clients and students. (My original personal sessions lasted for 6 to 10 hours — alas, a feat I can no longer manage! Hence, the triple-session program I have now designed to accomplish the same results.)
The stages of the Yogacara Astrology sessions I have designed for you consist of:
1. BigView session
2. Zoom-In session
3. StrategyTransits session
4+ Progress sessions (optional 'anytime' mini-sessions, 20 minutes or 45 minutes — after you've had at least a BigView session)
The Elements of the
Exceptional Purpose Program
More Layers of
Support for You
The Exceptional Purpose Program is an integrated system of extra services I have developed for you, which support, heal, and inspire your higher purpose—with no obligation on your part. Everything is here when you need it.
These tools are designed to also thwart any subtle self-sabotage in any area of your life, and are available to you after at least your first BigView Astrology session. 
These Elements consist of:
 Flower Essence Therapy (never to be underestimated for solid change!)
Progress sessions for brief or comprehensive ongoing support
the Exceptional Purpose Resource Blog site and newsletter
a comprehensive book series I'm planning to begin rolling out in late 2024. This has been more than 20 years in the making! (See my Author site KerrieRedgateAuthor.com)
my podcast 'Your Exceptional Purpose | Astrology' — listen free on your favourite podcast platform
RedgateSpace—Web Design service (for your cyber home), to help you get started with a professional website, putting your exceptional work out into the world
RedgateSpace—Living based on Taoist principles to bring harmony to your outer spaces, specifically to negate subtle self-sabotage
Reiki Courses for Your Exceptional Purpose, to enhance your compassion, intuition, and inner healing power (Private or Group courses suspended just for now)
You can find more information on the Exceptional Purpose Program on the next page of this site, but maybe read further here, first …
Why Buddhist Psycho-Philosophy & Ethics?
Siddhartha Gautama was an exceptional man who lived in 6th-century BCE India. He left a life of privilege and comfort to try to discover the answer for alleviating human suffering. He wanted to know why we suffer, why we are stricken with illnesses, and why we die.
Siddhartha began by studying with the greatest Brahmins and yogis of his day, and then disappeared into the forest with five other ascetics to put those excrutiatingly painful 'mind-over-matter' meditative processes to the test… But all to no avail. 

This was a six-year trial that almost cost Siddhartha his life. It was only after he gave up those gruelling ascetic practices, including starvation, that he realised there was a 'middle way' between opposite extremes (which is also an even more ancient Chinese Taoist concept). 
After his first nourishing meal in six years, offered to him by Sujata, a young herder girl (to whom the world owes an enormous debt — no act of generosity should ever be considered 'insignificant'!), Siddartha entered into a deep contemplation within a peaceful state of mind.
He then finally understood how the mind works in multi-layers, how we create our reality from our unreliable five physical senses. And he understood that our beliefs about our world are purely our own, created from our personal filters.
Siddhartha realized that to find our inner peace we must dissolve our inner enemies of hatred and aversion, and also our self-made obstructions from the attachments we cling to so passionately.
The opposite qualities to these hindrances are equanimity and detachment, generating compassion for all beings. In other words, experiencing the present moment purely as it is — with no subtle, automatic expectations — freeing us from our emotional triggers and our obsession with our own 'self' as a permanent thing. This is the meaning of Enlightenment.
Siddhartha taught in India for 45 years, and became known as a Buddha, an 'Enlightened Being'. Everything I've studied of His Teachings dovetails superbly with any Astrology chart — this has been a project of my own, spanning almost 4 decades. And I've found that the Yogacara Doctrine of Mind, compiled in the 4th century CE, from original Buddhist Sutras, is the perfect base for the most useful astrological, and psychological, analysis I have ever encountered.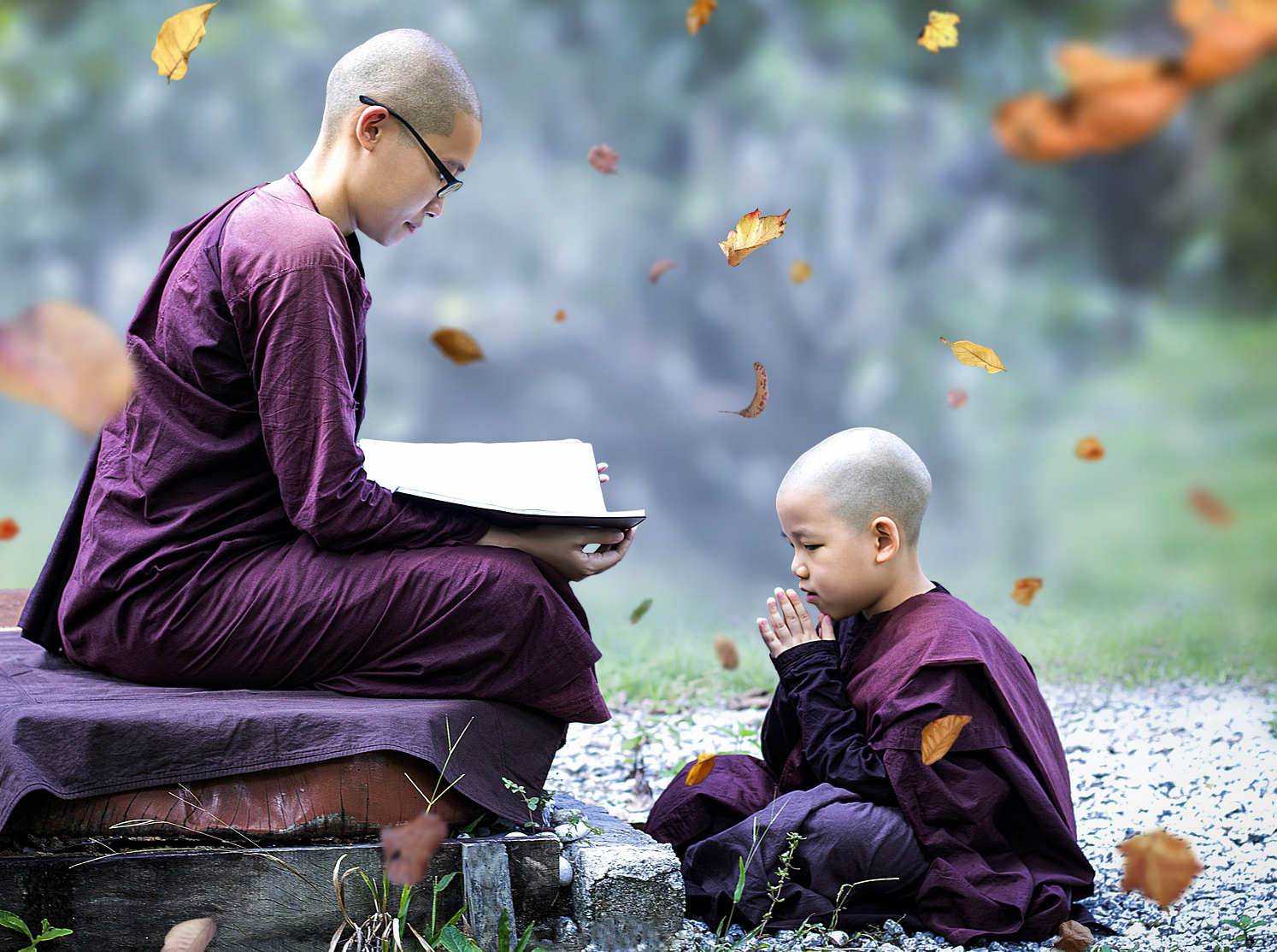 Yogacara Astrology
based on Yogacara Buddhist Psychology,
can reveal the exceptional life purpose
you can achieve,
emerging in detail, almost in 3-D,
right from your chart
And once you discover, through comprehensive Astrological analysis, what subconscious processes are entrenched in your brain, and why they are there, the path to higher achievement can become visible and possible.
So why is this tool not in common use?
Sadly, the term 'Astrology' often evokes a plethora of negative (if not down-right rude) reactions from people in Westernised countries. . . Why? . . . Tabloids, of course.
I'm happy to report
I have NEVER authored
a 'Sun-Sign' column.
And I NEVER will !
Please understand this:


Sun-Sign columns and Sun-Sign prediction reports are
NOT based on anything REAL!
There is a technique for writing those things, but it's a bogus process. Your birthchart is your DNA. It's personal to you alone. There are definitely influences from the Earth's field that can affect you in real-time, but the particular effects you'll feel, and can utilise, are based on many factors pertinent to YOU alone.
Some obviously money-conscious astrologers who should know better, or perhaps fame-seeking pseudo-astrologers, have found fame via Sun-Sign columns; and with unfortunate results. Although, more positively, there are (a scant few) astrologers attempting to sprinkle some wisdom via the tabloid process.
But such an abuse of this precious and ancient resource creates a never-ending downward spiral resulting in the diminution of Astrology as a genuine science.
NO ONE CAN PREDICT YOUR FUTURE!
Your life is always in your own hands
You can have the most magnificent potential as your personal life purpose,
but if you don't put in the work, yourself, that potential will be wasted.
To understand your inherent purpose, the reason you incarnated,
is to be empowered to achieve it sooner, rather than later,
and with greater confidence.
Yogacara Astrology is a unique tool for this purpose,
and can explain more than you could imagine.
 If you would like to experience a consultation with me, it might take some time, as I'm semi-retired just for now while I'm focusing on my book series. 
But you can fill out my Online Booking Form. (No deposit is required until the appointment date has been set), and I will add you to my waiting list.
But first, start the booking process by hitting the red button below, where you can find out more about what information I will need from you. This button will take you to my Living With Exceptional Purpose website.
You'll find a lot of specific detail about my Yogacara Astrology sessions on my Living with Exceptional Purpose site, but of course I'm happy to hear from you through email via the Contact page on all my sites.
Since 1998, I've been researching and writing a large series of books to hopefully change some minds about Astrology and Life Purpose.
I'm planning to start rolling out the Apple Books, Kobo, etc, versions (thank heavens for indie-publishing!) later in early 2024. And one of them in the series will be periodically or permanently free in the ebook version. Paper versions will also be available to buy online for also most of the books shortly after. And I will be personally narrating the audio book versions.
Receiving my Resource newsletters will give you advanced notice on their release dates and some exclusive benefits (I will be looking for beta readers for pre-launch reviews). Plus you may find some helpful or interesting information in the newsletters (this will not be a flood of emails in your inbox!). And I may include some sample chapters.
You can subscribe to my Exceptional Purpose Resource Newsletter via this button, above. (And Unsubscribing anytime is easy.) Your email address is of course never deliberately shared with anyone apart from me. My mailing list is electronically controlled by the good people at MailerLite.
Subscribe, above, to the Resource to receive my past newsletter containing a link to my blog article covering the major areas of disruption we now face via our new paradigm, which started on
March 23 2023.